Mactrac Pro - Fixed bed screen tracks for ultimate privacy and flexibility
Designed for privacy, hygiene and ease of use in a range of primary and secondary healthcare settings. The sturdy tracks and versatile components allow greater flexibility for designing efficient use of space.
Image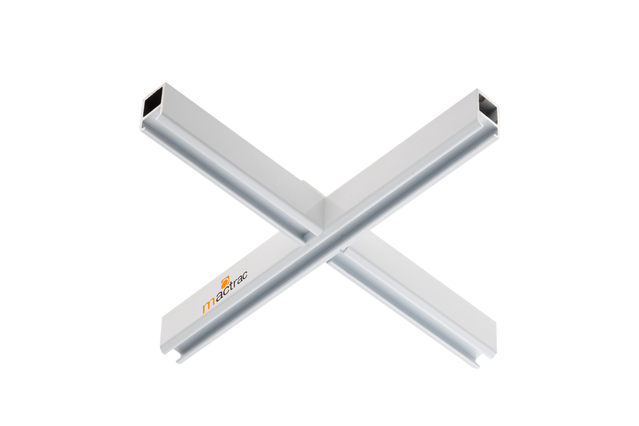 Mactrac Pro Hospital Curtain Track for Bed Screens
The Mactrac Pro bed screen track system is a premium quality and well-proven application for hospital bed screens, doctors' surgeries, rest homes, and other similar areas.
Mactrac Pro can be fitted with Mactrac curtain changing cassettes, and Mactrac IV Track Systems to provide a system of fully integrated tracks.
The versatile Mactrac Pro system can be fabricated to suit various layouts and situations.
Track bends can be supplied prefabricated or manufactured on site depending on the complexity of the installation. Custom made components are available where required.
Standard finishes are powder coated white or satin silver anodised. Special colours are available on request.
Download the Technical Data Sheet (TDS):
Image
Information Required for Quotation & Supply
Type of fixing (suspended or ceiling fixed)
Fixing substrate (anchored to concrete soffit, plasterboard ceiling, ceiling grid, suspended ceiling grid etc.)
Plans of installation, reflected ceiling plans, track layouts and scale plans or site measurements – or copies of quantity schedules
Allowances must be made for mechanical services, sprinklers, light fittings and ventilation
Fixing span
Height above floor
Track finish e.g. white powder coat, satin silver anodised
Track measurements
Bend details e.g. location and extent of bend in degrees, radius
Number and size of Mactrac curtain changing cassettes if required
Note that multiple bends can be made. Talk to us about what you need.
Image
Technical Information
Size & Profile
25.4mm x 16.5mm, profile wall thickness 1.8mm, available up to 6m lengths. Tracks can be joined beyond this length without interruption to the glide travel although we would advise you to seek further information from us about this if you are unsure of any product capabilities.
The Mactrac Pro SC2 Track is made of extruded aluminium with a structural rectangular hollow section with lipped glide channel below for a smooth glide.
If you need larger and even stronger tracks, the Mactrac Pro Plus Track is nearly twice again as large (38mm x 20mm) as these tracks and allows more flexibility in room layout options with movable track.
Image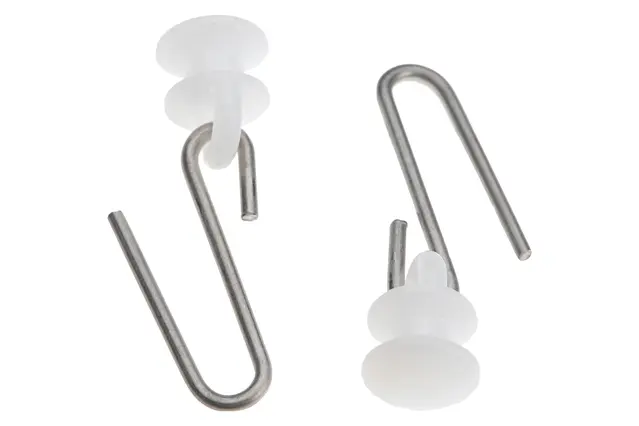 Glides
Made from high density polyethylene, circular in plan, waisted in section to slide between the lipped channel, with a closed ring beneath.
Choice of acetyl or stainless steel hook from which the curtain is suspended. You may also choose extra long hooks  (8cm compared to a 3cm drop) for hoisting situations.
There is a minimum 10 glides supplied per metre of track.
Anti-ligature safety glides are also available for areas of high patient risk.  These release the curtain when it is subjected to consistent downward pressure.
Image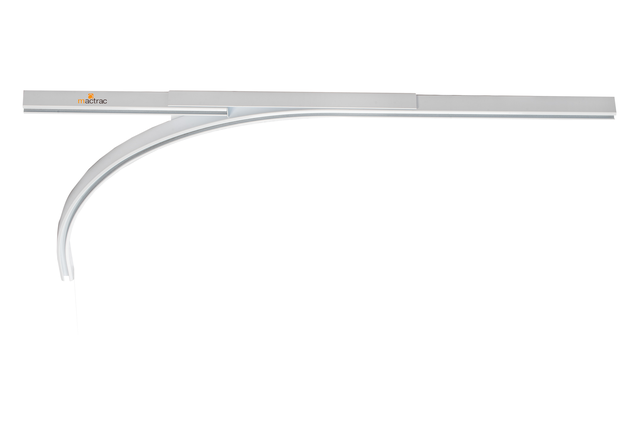 Travel
Bed screen curtain travels freely around all sections of track.
Corners
Mactrac Pro can be bent to a 300mm radius and fabricated to a large variety of configurations.
Finishes
Standard finishes are white or ivory powder coated or satin silver anodised. Special colours are available on request.
Fixings
Approved fixings for solid concrete, brick, timber walls / ceilings and cavity walls / ceilings are used when product is installed by a Mactrac approved installer.
Image
Fittings
Standard fittings available for the Pro & Pro Plus Track Systems are:
Hanger rods and proprietary ferrules (for ceiling and track attachments) and are spaced at a maximum distance of 2 metres
Brackets

End cap brackets - ECB
Wall attachment brackets
Track / ceiling fixing brackets

Ceiling fixing plate CFP
Ceiling fixing bracket CFB

Ceiling / track bracing systems

Junction plates & track joiner

90 degree bend
4-way junction plate
3-way junction plate
Track Joiners - TJC
 

Spacers to provide a gap for cleaning when track is fixed directly to the ceiling
 
Glides
Since Healthcare facilities are all unique, please have your planners contact us for help in designing the best system for your particular use case & location. See the diagram below for a one room example of how the parts may fit together to form a bespoke system.