Mactrac Community & Stage Curtain Tracks
Our stage track is designed using premium aluminium, and is operated using a heavy duty cord system, making it the perfect choice for theatres, school halls, churches, and as room dividers. Curtains glide effortlessly, thanks to siliconed nylon carriers and glides.
Image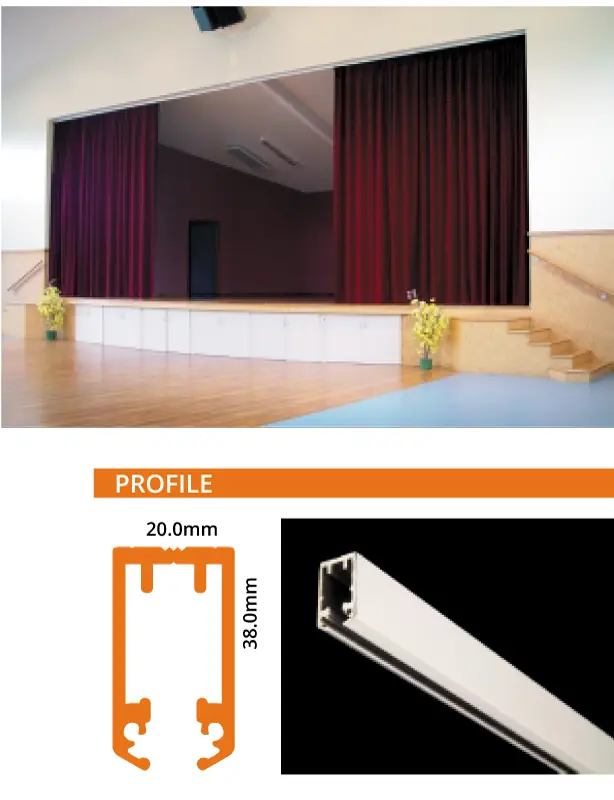 Mactrac Stage Curtain Track
Mactrac Stage Curtain Track is a heavy duty cord operated curtain track system developed for use in theatres, in schools, church halls, and as a room divider. It uses a premium quality extruded aluminium track with siliconed nylon carriers and glides for smooth effortless operation.
The pulleys are hardwearing nylon wheels with marine grade stainless steel casings for strength and durability. The system is operated by a 4mm braided nylon cord, which is tensioned by a spring tensioner.
The master carriers are made from ultra high molecular weight polyethylene (UHMWPE) for years of trouble free use.
Standard finishes are satin silver anodised and white powder coated. Special colours are available on request.
Installation Tips
It is recommended that the track system be fitted to a 150 x 50 mm timber bearer to ensure the track is both level and straight for maximum performance.
Ceiling fixing plates are used to attach the track to the bearer. These also act as supports when the track length dictates that joins are required. The system can be bent to suit special  requirements.
The following information is required for quotation or manufacturing purposes:
Plans of installation
Track finish (e.g. white powder coat, satin silver anodised)
Finished measurement of track
Measurement of stage width
Details of track height for cord drop
Cording requirements (left hand or right hand, 1 way or 2 way)
Size of overlap (300mm is standard)
Type of substrate available for fixing (150 x 50mm timber recommended)
Bend details
Any special requirements
Components for Mactrac Stage Curtain Track
Three piece pulley set
Tension system with heavy duty spring and 4mm cord
Heavy duty stage master carrier
Stagetrack end cap
Stage track glide NG4S
The Mactrac Warranty of Quality applies for Mactrac Stage Track when it is installed by a qualified Mactrac approved installer.